Oven Pizza MIDDLEBY MARSHALL / PS 540 G / Double Deck Conveyors 32 wide / Gas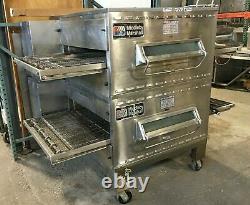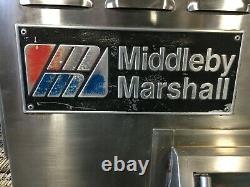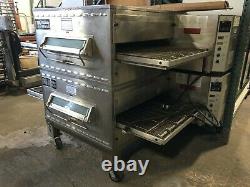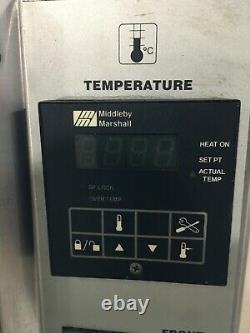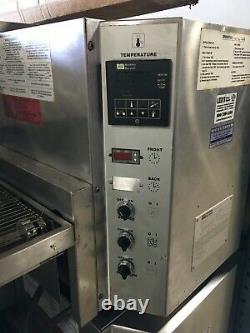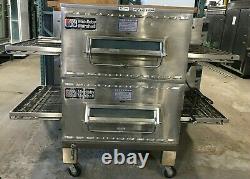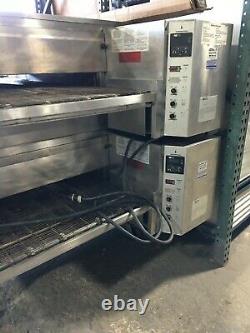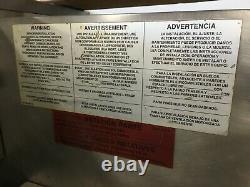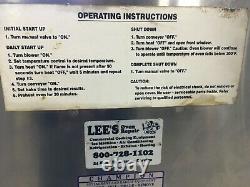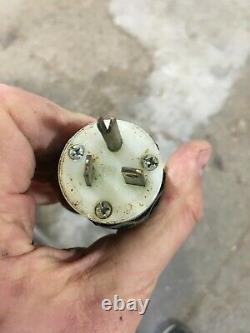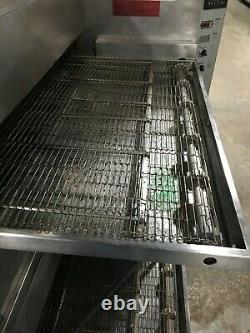 Heavy duty, all stainless steel. The best conveyor oven for pizza and flat bread.
Comes on casters easy to move. Comes with 32 wide conveyor for more productions. Comes with side door windows open upright for checking the pizza while baking.
Power for conveyors and control needed see plug photo. Rapidly heat, cook, bake, and crisp your most popular appetizers, sides, entrees, and pizzas.
Each conveyor oven operates on simple digital controls with a single on/off power switch and a new view vacuum fluorescent readout that displays the set temperature in degrees, as well as the conveyor belt speed, thermostat indicator light. With a temperature range of 260-600 degrees Fahrenheit and adjustable cooking times from 1-30 minutes, you can cook pizzas, lightly toast sandwiches, and everything in between on the spacious 32" wide by 73" long belt. A 3 opening size accommodates a variety of products. Advanced air impingement technology enhances bake quality and uniformity, providing faster bake times for improved time of service.
Watch as your foods get done two to four times faster than in your traditional oven! This conveyor oven package includes two conveyor ovens, a take-off shelf for each, an oven top, and a low stand with casters so you can quickly get your unit set up to use. For easy cleaning, each conveyor oven features a durable stainless steel exterior and an easily-removable belt, impingement fingers, crumb tray, and door. Each oven requires a natural gas connection and a 120V electrical connection for operation. Overall Dimensions: Width: 78" Depth: 58" Height: 61. This Item Ships via Common Carrier. Also available, 90" 84" 3 bowl sink new , hand sink , mop sink, all. Other bar sinks and kitchen sinks available, 1,2,3,4 bowls. Available all sizes , new and used, stands tables for grills. Dimensions: 24" deep x 24, 36, 48, 60, 72, 84, 96" x 35H and much more. Dimensions: 36" deep x 24, 36, 48, 60, 72, 84, 96" x 35H and much more. Stainless-steel cabinets, 48" wide x 24" deep x 35"H available 3 units 96" x 30" deep x 36"H and other. Sinks all sizes hand sink new and used.
Prep sink, 2 bowl sink (2 units) 3 bowl sink, (12 units to select from) 4 bowl sink (2 units)We sell new and used commercial stainless steel tables. We have many different size tables with different options. Stoves fryers, oven sink prep tables ice machine ice makers ice cream ice chest cooler freezers walk in cooler display cases slices mixers steam tables gas electric 36" 48" 72.
Fryers from 500.00 gas used, nice and clean, Anvets, Dean, Pitco. Also available Coffee brewers all sizes see photos. Coffee grinders new and used. Mixers: Hobart: 80qt, 60qt 6 units to choose from, P660, and standard 60 qts 4 speed completely refurbished, , 30qt, 20 qts. Hand Sink Dimensions: 17 x 17 x 8 H splash. Hand sink 12 x 16 x 24H comes with napkin dispensers on it wall unit see photo. Show Cases, bakery case, grab and go case refrigerators. Under Counter Coolers, Freezer 1,2, dors. Convection ovens, gas and electric. Double Rack rotation convection Hobart Gas oven. Convoterm Ovens, 4 to select from full seize and 1/2 size. Table with sink 96 and many more units alike and dishwashers machines available. Prep table, Sandwich prep table, 27", 48", 60", 68", 82", 93", 120, True, Randall, Continental, Beverage Air, Traulsen, Turbo Air, Delfield.
Tables stainless-steel 24", 36", 48", 60", 72", 96", new and used. Sink, Hand sink, with splash new and used. Faucets new for 3 bowl sink, hand sink all. Steam table gas or electric, 2, 3, 4, 5 bowl. Grills flat 24", 36", 48.
Fryers all 40 lbs oil, used start form 500.00. Charcoal grills, 22", 24", 36. Ice cream Taylor machines double and single heads, 5 units alike, Electrofreez 2 heads, Table top 115 power as well. Ice chest with sliding doors top, Ice cream dispensers cabinets 48", 72".
Freezer , coolers Free stand, Rich-in 1 door, 2, 3 doors glass or solid stainless steel, available. Bar sinks , hand bar sink, ice chest bar. Bar beer cooler glass doors with 2-3 doors True. Bar coolers 2 & 3 solid doors Perlick. Walk-in coolers & Freezers available custom build on the spot, most jobs done in 2 days.
Slicers , Hobart, Berkel, automatic, manual. Meat high-speed cutter bend-saw Toledo power at 115/10-A , Butchers-Boy available today. Meat Grinder Hobart Power at 220-20-A, 2 HP motor, 60 LB per minute capacity. Grinders Coffee new and used, 8 to select from. Coffee brewers 15 units to select from. Espresso Cappuccino machines 4 to select from 2-3 groups. Heat holder cabinets full free stand, or 1/2 cabinets with see through doors, with steam. Proffers , Ovens Pizza double decks gas Vulcan, and others, Double Rack Hobart oven Gas, Electric convection ovens, Hoods, Make up hot air Reznor and Tranne, one unit good for up to 20 feet hood. Installation available new and used hoods, certification available. Doors, Swing kitchen doors, new and used, 36-84, 36-94, 36-78, 22-84. Scale new and used, print receipt Hobart , 3 units available with stand. Under-counter coolers freezers, 1,2,3 doors. Wood tables old school like new refurbished, 60-30", 96-30', 96-24" and more. Donuts display cases table top new and used. Bread slicers automatic and manual, bagel-bun hinge slicers Oliver. Table, chairs, booths for dining rooms. Grab n go coolers for grocery stores. 14 doors walk-in cooler for grocery convenient stores gas stations. 10 doors rich in cooler for grocery stores. Trays, racks, number 10 racks, half aluminum racks, donuts racks, bagels racks. TRADE YOUR BROKEN EQUIPMENT AS WELL. CALL ME OR TEXT ME THE EQUIPMENT YOU LIKE TO TRADE AT THIS NO 8473123336. Tags: Tables, Shelf, Cabinets, Stands, Grills, Fryers, stoves, proffers, Pizza Dough Rollers, Shetter, Mixers, Slicers, Coffee brewers, Cappuccino Machines, Grinders, Convection ovens, gas and electric Double Rack rotation convection Hobart Gas oven Convoterm Ovens, 4 to select from full seize and 1/2 size restaurant equipment bar coolers chillers tables sinks coolers freezers walk-in freezers coolers hand sink 3 bowl sink racks pan under counter coolers freezers bar coolers rich in coolers freezers glass doors freezers coolers grab and go coolers freezers. The item "Oven Pizza MIDDLEBY MARSHALL / PS 540 G / Double Deck Conveyors 32 wide / Gas" is in sale since Monday, March 8, 2021. This item is in the category "Business & Industrial\Material Handling\Conveyors & Conveyor Parts\Conveyor Systems\Roller Conveyors".
The seller is "championbedorel" and is located in Elk Grove Village, Illinois. This item can be shipped to North, South, or Latin America.
Brand: Middledy Marshall
Custom Bundle: Yes
Model: Ps 540 G
Modified Item: No
Bundle Description: 2 Decks Conveyor Ovens
Country/Region of Manufacture: United States
MPN: 2 decks conveyor