Hakka Commercial Countertop Pizza Oven 2200W Electric Single Deck Bakery Oven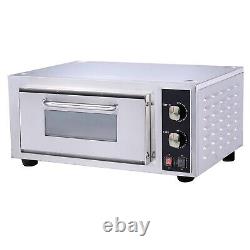 Hakka Commercial Countertop Pizza Oven 2200W Electric Single Deck Bakery Oven. This small countertop oven is great for cooking pizzas up to 14 in diameter!
Since this unit only has one deck, it is ideal for establishments that need to keep up with the high demand for a couple of key menu items. An incredible temperature range of 150 to 840 degrees Fahrenheit guarantees the versatility you need to create a wide selection of menu items in a small footprint. For the best performance and even cooking, this oven is recommended for thin-crust pizzas cooked at 550 degrees for 6-8 minutes.
This method ensures that pizzas are fully cooked with even leoparding on the crust. 1 Intelligent Cavity Design: This model has a 1/2 thick cordierite stone deck along with top and bottom elements to cook pizzas evenly. The large elements span the full cavity to reduce the need to rotate pizzas during the cooking process. The oven cavity comes equipped with a light to let you and your staff view what's cooking.
To provide consistent interior temperatures and to maintain cool exterior temperatures, this pizza oven's body is fully insulated. 2 Precise Deck Control: The deck controls and an electronic 30-minute timer with audible alarm ensure perfect results every time. You will be able to successfully manage and keep track of your orders! 3 Easy-to-Use Interface: The oven has independent on/off switches for top and bottom heating elements, a master on/off switch, a light on/off switch, and large stainless steel control knobs to ensure simple, efficient operation. 4 Durable Construction: The exterior of this oven is made of durable stainless steel, and the interiors of each cavity are aluminized steel.
The unit will resist the rigors of a commercial environment while remaining easy to clean. 5 Heavy-Duty Door: The unit has one heavy-duty swing down door for easy access and efficient loading and unloading. The door has a window that allows staff to keep an eye on pizzas without opening the door and letting hot air escape. The door handle is made of stainless steel and has a rubber coating for insulation and a good grip.
6 Wide Application: This Double deck countertop pizza oven will allow you to offer deliciously fresh pizza or other freshly baked foods at your bar, concession business, or restaurant!