Gemini SVEBA DAHLEN DC-44 Convection Oven 4-Deck Brick/Stone Pizza Commercial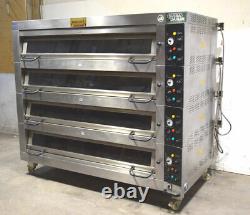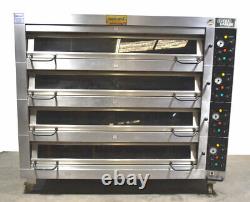 Gemini SVEBA DAHLEN DC-44 Convection Oven 4-Deck Brick/Stone Pizza Commercial. Please send the following info. This item comes in non-original packaging. It has scuffs, scratches, stains, debris from normal use.
When this oven was setup with the external power and water lines it ran very smoothly with no problems. At first when the power was applied the buzzers went off, while the yellow and green lights were ON. We then set the timer, which turned off the green light. We also turned the steam switch ON, which turned the red light ON. Then all four temperature knobs, on each deck, were turned to Max.
In approximately 20-30 minutes the temperature was hot in each deck. When the steam red light turned off (steam ready) we turn the switch to the right towards the steam icon, then the steam came ON inside of the deck. When the steam was done its red light turned back ON to start the building up of more steam for the next application. In each deck while the temperature was going up we felt all 4 levels/locations heating elements/areas and far as we could tell each one was working well.
This oven was removed from a decommissioned Le Cordon Bleu. We looked over all the brick/stones and we could not see any cracks or chips, they all seem to be in very good condition, other than a few stained areas. One of the wheel lock levers is bent up as seen in the image. The second deck window shows some "debris" inside the two glass panels.
We are not sure if it is from a bad seal or something else. There are no signs of cracked glass. No further testing was performed. Note: This oven has 8 new parts as listed in the Specification field. No manuals, cords/cables, or additional items are included if not listed or shown.
(1) Gemini SVEBA DAHLEN DC-44 Oven Deck Brick 480V 3-Ph 4-Steam. Temperature Range: 200 - 750 °F. Exterior: 92"W x 47"D x 80H.
Exterior Of Oven Stainless Steel w/ Back Aluminum. Electric 60 Minute Timer Per Deck. Opening/Interior: 74-1/2"W x 32-1/4"D.
6- Brick/Stone Slabs Per Oven: 32-1/2"D x 12-1/2"W approx. 1 - Corrugated Metal Grate.
16 Pan (4 per deck). Each Deck Has Separate Controls. 4 Decks Have Steam Capability. 3 - Light Modules, ZBV-G5. For questions regarding this item, please reference the SKU to help us better serve you.
This item is guaranteed to be as described. DougDeals reserves the right to refuse service to anyone that does not comply with the terms listed and linked here. The sole and exclusive venue for any lawsuit arising out of or relating to this agreement shall be the Travis County Civil Courts of Travis County, Texas.