Equipex PZ-430S Single Deck Sodir Countertop Pizza Oven, Fire Brick Stone, El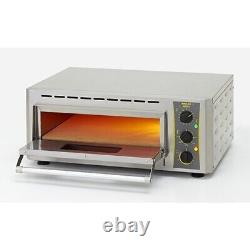 Equipex PZ-430S DescriptionBaking a frozen pizza in three to six minutes, the Equipex PZ-430S countertop pizza oven reaches temperatures as high as 660 degrees Fahrenheit. To help the crust bake correctly no matter the thickness, a second thermostat is located underneath the deck to regulate heat. This unit can be operated with a 15-minute timer or its continuous cooking feature. The Equipex PZ-430S countertop pizza oven preheats in just 10 to 12 minutes for quick use.
Illuminated by interior lights, pizza can be monitored through a clear glass door. Providing a traditional taste, this oven is made of durable stainless steel with a fire brick stone deck for cooking. Operated with three control knobs, this unit can cook one 16-inch pizza or a few smaller pizzas. Product DetailsQuartz heating elements can reach 660 degrees FHolds (1) 16-in. Cooks pizza in 3-6 min. Thermostat regulates heat under deck, providing crispy crustsFire brick stone gives pizzas.